A life sciences company's learning management system (LMS) should feature reporting tools that capture employee training records, including validated and unimpeachable electronic signatures.
Companies require LMS technologies to provide reports that should be easily accessible, in un-editable and easy-to-read formats that can be provided to US Food and Drug Administration (FDA) inspectors and other regulatory auditors when requested. The Electronic signatures in LMS reports must meet FDA 21 CFR Part 11, EU's Annex 11 and other global regulatory bodies' requirements.
Key elements of LMS reports to regulatory auditors and inspectors:
LMS reports to auditors should typically include the following:
User ID, last name, first name
Training ID and title
Training status (i.e., Complete, In-Progress, Overdue)
Qualification status (i.e., Qualified, Unqualified)
Date and time training was assigned and completed
Learner's electronic signature of completion
Below is an example of a completion training report:

How in-depth your LMS reports should go
Auditors require more evidence beyond whether an employee has read and understood a Standard Operating Procedure (SOP). They also want to know if and how this procedure is being applied, and whether the procedure's effectiveness is supported via evidence of additional training such as an On-the-Job (OJT) Training and/or exams.
An effective curriculum should include a comprehensive set of training modalities (e.g., SOP, classroom-based training, OJT training and exams). Effective LMS platforms should be able to provide these types of training modalities, as well as reports that provide detailed training information.
LMS administrators and/or users should have the capability to capture training and observation procedures, as well as retrieve them to provide visibility to regulatory auditors in order to demonstrate when and how employees received training. These records, in turn, help demonstrate to auditors and inspectors that employees are qualified to perform their assigned roles. An example is below: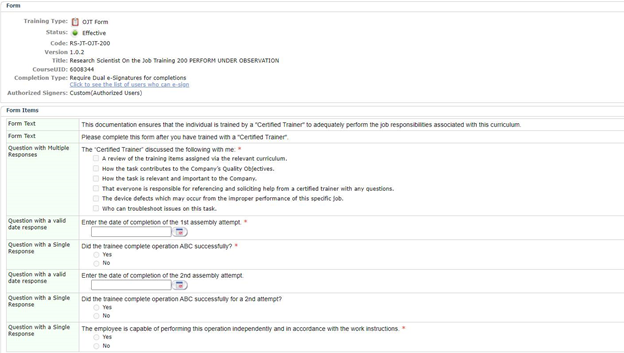 Haroon Zikria is Senior Product & Service Specialist at UL ComplianceWire.
Learn more about LMS technologies to support the life sciences industry
X
Request information from our specialists
Thanks for your interest in our products and services. Let's collect some information so we can connect you with the right person.