By Michael Wiklund
I was delighted by the level of interest in Emergo by UL's Human Factors Research & Design (HFR&D) November 2022 webinar, titled Design and Evaluation of Electronic Instructions for Use. Our human factors specialists Yvonne Limpens and Oliver Cook ably presented on the topic to a large audience, drawing 1,840 total registrants and over 800 live attendees. If you were unable to attend the live presentation, or simply find this topic of interest, you may view it here.
The high attendance signaled that medical device and combination product manufacturers aspire to produce high-quality instructions for use (IFUs) and want to go digital. Certainly, high-quality IFUs help users become capable using a new device, and they help companies achieve good results in  human factors validation tests when use errors are an anathema. But an electronic IFU(33 (eIFU) stands to be more flexible and economical in the long run than traditional, printed IFUs.
As highlighted by Yvonne and Oliver, there's a lot to like about delivering instruction via an electronic channel.
Sometimes, the channel might be the device itself. For example, a dialysis machine with a 13-inch (33-cm) diagonal screen does a nice job of displaying instructions. The only problem is that a user can't view the instructions and the machine's software-based controls and displays at the same time. That's where the laptop computer, tablet, and smartphone come in. Each offers a dedicated screen for reading instructions while the user can also see the given device's user interface about which instruction is sought.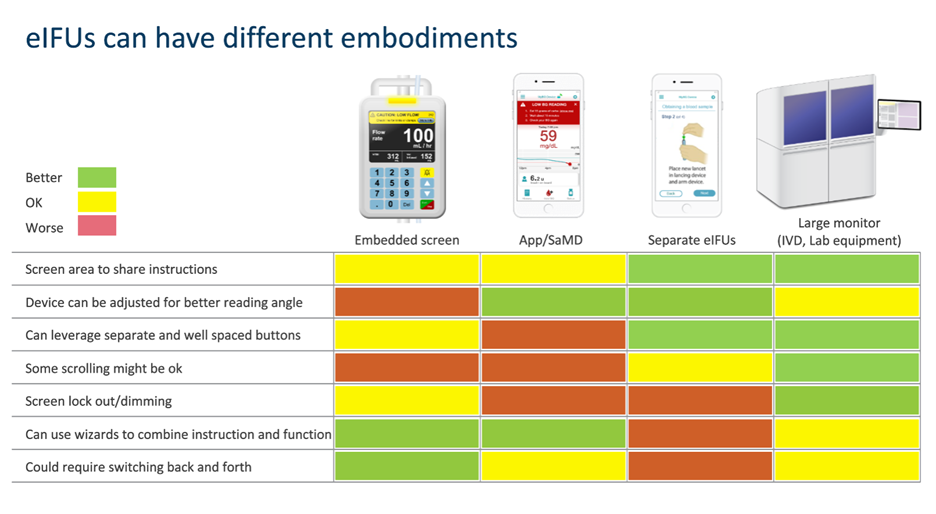 Here are some more things to cherish in an eIFU:
Easier than print to update to correct any errors and add more helpful content
Might be more accessible than a printed document stored in a filing cabinet
Can include videos to demonstrate specific actions
Can be linked to online customer support
Enables convenient cross linking to related content
Simple navigation is the key to making an eIFU work well for the users. Otherwise, most of the guidelines on how to design an effective IFU apply just as well to electronic versions as printed versions. It's still important to use meaningful headings, differentiate information based on its type and importance, embed warnings within associated task instructions, use appropriate vocabulary, etc.
Still, there are some tradeoffs to consider before going all-electronic. Perhaps first and foremost, printed instructions do not run out of power. If they are at hand or can be quickly retrieved, they will not leave you stranded in the manner of a blank screen. Also, for hygiene and equipment cost reasons, there might be no laptops, tablets, or smartphones available where and when needed.
Therefore, we expect manufacturers to proceed with both IFU forms: printed IFUs and electronic versions. The promising economies of eIFUs will have to wait. The challenge will be to keep physical IFUs synchronized with eIFUs. It's difficult to imagine this going smoothly.
Printed IFUs will come with the device (it's a regulatory requirement) but quickly become outdated as the eIFU is routinely updated. Users will become increasingly comfortable using computerized readers instead of paper documents, just as an ever-increasing number of people read e-books instead of bound volumes. They will develop greater trust in an eIFU because it is most likely up to date. Maybe this advantage will hasten progress toward eIFUs as the only source of guidance; a day of reckoning that puts printed IFUs on the antiques shelf with film X-rays and plaster casts.
Personally, I'd miss the physical IFUs, but this could be a generational thing. I already miss chalkboards and wish my iPhone came with a nice, printed handbook. I'm not exactly an early adopter. However, I would find it addicting to read an eIFU about a given medical device, and simply tap a button to watch a demonstration video linked to a particular instruction. To me, that is the real charm of eIFUs.
Michael Wiklund is General Manager and Director, Human Factors Research & Design (HFR&D) at Emergo by UL.
X
Request more information from our specialists
Thanks for your interest in our products and services. Let's collect some information so we can connect you with the right person.