By Cory Costantino
Our Human Factors Research & Design (HFR&D) team communicates a relatively simple message to clients: we apply our extensive experience and skill set to support any or all stages of a user-centered design process. A process that looks something like this: 

A client rarely questions or does not understand the basic tenets of a user-centered design process. This speaks to how well user-centered design (UCD) and usability have been popularized, expected as differentiators in the marketplace, and required in regulated spaces. Despite acceptance of UCD as a process, some confusion tends to persist, with an age-old question that goes something like, "What is the difference between HFE / Usability / ID / UX / UI?"  
Where there are standards and regulatory guidance that define some of these terms, our team can adopt them, whereas others we might align with our experience. The goal is not to be dogmatic, but to allow for variation and overlap with other disciplines to ensure that we speak our client's language and get to what really matters: solving problems and helping to create safe, effective, and satisfying products.  
Even so, each term carries some nuance that makes it distinct, which we explore below. 
Human factors engineering (HFE)  
HFE has been called "usability engineering," industrial engineering," and even simply "ergonomics. Perhaps the most widely accepted definition of HFE in the medical space is from AAMI HE75 "…the application of knowledge about human capabilities (physical, sensory, emotional, and intellectual) and limitations to the design and development of tools, devices, systems, environments, and organizations…." (ANSI/AAMI HE75:2009, Introduction) 

With this definition, HFE can easily be described as UCD and vice versa. However, HFE appears to be more commonly referenced in FDA and IEC guidance.  
Usability  
Where HFE is a noun, "Usability" is an adjective. FDA and IEC guidance align around this definition: usability is the "Characteristic of the USER INTERFACE that establishes EFFECTIVENESS, EFFICIENCY, ease of USER learning and USER satisfaction" (ISO/IEC 62366:2007, Definition 3.17) 

Usability.gov provides a consistent, albeit less regulatory-inspired definition, "How effectively, efficiently and satisfactorily a user can interact with a user interface." 

Notably, the regulatory definition implies that a product either has or does not have "usability," whereas the second definition indicates a product can have "good" or "poor" usability. 
User experience (UX)  
In the simplest terms, user experience can be defined as a "person's perceptions and responses resulting from the use and/or anticipated use of a product, system or service." (ISO 9241-210). However, UX (i.e., UX Design and UX Research) arguably adopted its most common meaning starting in early web and software development as teams adopted techniques and methods to ensure good design process in digital spaces. However, definitions of UX can be broader:  
"A broad term for several disciplines that study the effect of design on the ease of use and level of satisfaction with a product, site or system." (usability.gov) 

"Interaction design" can be defined in a very similar manner, "it is the design of the interaction between users and products." though there are differences in practice. (interaction-design.org) 
Whether you call it "UX" or not, Don Norman and others suggest taking a similar full-system view, "No product is an island. A product is more than the product. It is a cohesive, integrated set of experiences. Think through all of the stages of a product or service – from initial intentions through final reflections, from first usage to help, service, and maintenance. Make them all work together seamlessly." (jnd.org) 
Broadly, "UX" seems most like "HFE," as both emphasize the need to understand the entire spectrum of user experience to ensure safe and effective use. As such, UX, like UCD, could be used synonymously with HFE, and the choice of term could depend on preference and norms within a given industry, and proximity to regulatory guidance.  
User interface (UI)  
A UI might simply be considered whatever is on a device screen (assuming a device includes a screen), and then sub-divided, with "UX design" providing the workflows/experience and "UI design" applied to the fit and finish. However, we adopt a more holistic definition, as shared by the FDA: "A device user interface includes all points of interaction between the user and the device, including all elements of the device with which the user interacts,". Moreover, "The user interface includes all components with which users interact while preparing the device for use (e.g., unpacking, set up, calibration), using the device, or performing maintenance (e.g., cleaning, replacing a battery, making repairs)." (FDA) 
Usability.gov shares a similar definition: "User Interface (UI) Design focuses on anticipating what users might need to do and ensuring that the interface has elements that are easy to access, understand, and use to facilitate those actions." However, Usability.gov defines the "User Interface (UI), or Graphical User Interface (GUI)" as simply "What the user sees," which is too limiting to be consistent with regulatory definitions and seems somewhat inconsistent with their own definition of UI design. 

To fulfill the promise of HFE (or UX), a UI design (or UI designer) should look at a user interface holistically, as a multi-component system including training, labeling, media, and any specifics of the physical (or digital) product itself. You might say that what we design is the UI, while what we try to achieve is great usability (i.e., a great user experience).  
ID, GUI, Instructional, Graphic design  
The Industrial Design Society of America (IDSA) defines Industrial Design as, "the professional practice of designing products used by millions of people around the world every day. Industrial designers not only focus on the appearance of a product, but also on how it functions, is manufactured and ultimately the value and experience it provides for users." 
That sounds a lot like the "HFE" definition, which sounds a lot like the "UX" definition, which sounds a lot like the "UI design" definition!  

In order to avoid redundancy with the terms so far, and to take a regulatory perspective, we consider ID primarily part of a UI. Remember, the UI can include "size and shape of the device", "components the user handles", "graphic user interfaces of device software systems", "accessories", and "packaging" (FDA). 

Having an undergraduate degree in Industrial Design myself, this definition does not diminish the necessity of ID as a unique discipline. Certain aspects of the UI are more traditionally within the wheelhouse of ID, such as the mechanical design, overall form, and physical styling. This logic similarly applies to GUI (graphical user interface) design, which employs skills for designing embedded screens, apps, and their associated workflows, as well graphic and instructional design, which includes designs of instructions (in print or digital) and on-device labeling. A team might be comprised of those skilled in one or more of those disciplines, just as the needs of a company and/or project might require those skills in different amounts and focus.  
Ultimately, we try not to judge these terms too critically. As the first industrial design definition alluded to, any type of design requires a thoughtful research and design process to whatever aspect(s) of a product or system is in development. Similarly, a person primarily skilled in any one of those disciplines might find themselves leading a multi-disciplinary team through that process.  
Despite overlaps and variations, realizing that there are high-level terms that speak to how you design (e.g., HFE, UX, UCD), and those that speak to what you design (e.g., UI, ID, GUI) gives us a hierarchy of ideas, we can simply place into two buckets: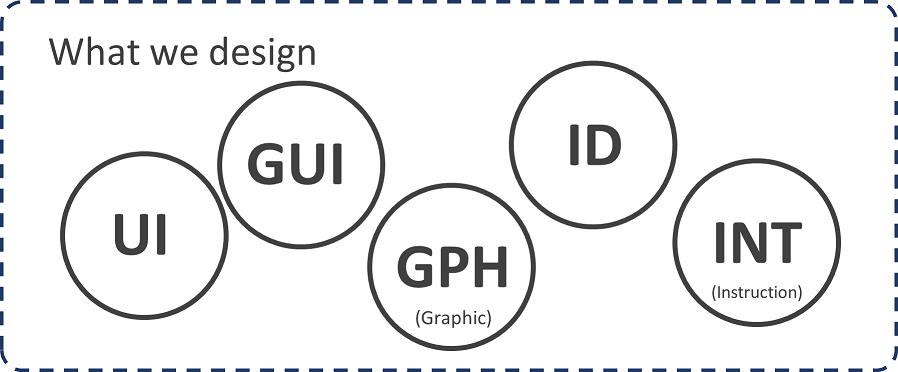 Cross-referencing these ideas against the regulatory and industry standards that are most relevant to our clients gives us a common ground, a Rosetta Stone if you will, that does not necessarily require we all speak the same native language yet enables us to communicate and collaborate effectively.  
Cory Costantino is Design Director at Emergo by UL's Human Factors Research & Design (HFR&D) division.
X
Request more information from our specialists
Thanks for your interest in our products and services. Let's collect some information so we can connect you with the right person.